Spilltration SmooshKit™: The Ideal Space-Saving Solution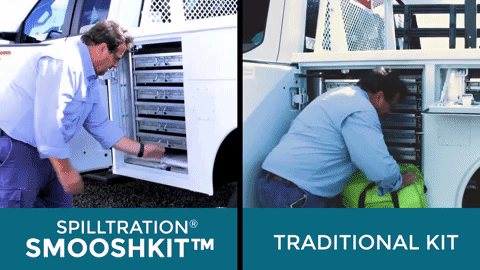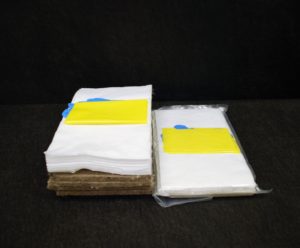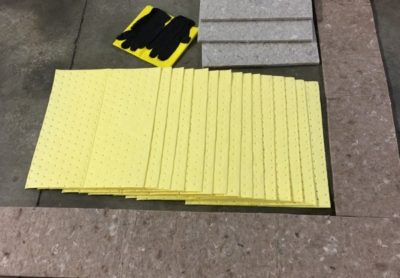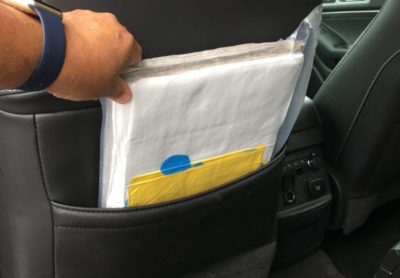 Spilltration SmooshKit™
Our new SmooshKit™ is all about space savings. MBT's partner HalenHardey's patented smooshing technology solves the common space constraints that many fleet and remote industries face.
This proprietary process compresses our innovative Spilltration® material into compact packages that can fit anywhere.
You can store SmooshKits™ in the smallest of spaces:
The seat back of a pickup truck
Glove boxes, toolboxes, and other utility containers
Under, behind, or between your seats
In your seat Pocket
Anywhere you have a bit of extra space
SmooshKits are lightweight, compact, convenient, and 500% smaller than other similar kits, giving you an advantage when a spill happens.
Item #
Description
Gal/Abs
Pkg Qty
Pkg Wt
Pallet Qty

Universal Smoosh Kits

SPL067
Spilltration® All Fluids Vehicle SmooshKit™
4.5 Gal
10
30 lbs
16

(2) Gray Husky Strips:  to quickly contain the oil or fuel.

(3) Gray Husky Pads: to get the bulk of the oil or fuel sopped up.

(5) Yellow Universal Pads: to clean up battery acid, antifreeze, coolants, and other water based fluids/solvents.

(1) Pair of Nitrile Gloves: to be worn during the cleanup process.

(1) Yellow Disposal Bag: for the final cleanup and disposal.

A Handy UnSmoosher: provided to easily open the SmooshKit

Oil Only SmooshKits

SPL046
Spilltration® Original SmooshKit™
5 Gal
10
33 lbs
16

(30) White Oil Shammy Towels: to sop up any remaining oil or fuel and wipe down all hard surfaces.

(5) Gray Husky Pads: to get the bulk of the oil or fuel sopped up.

(1) Pair of Nitrile Gloves: to be worn during the cleanup process.

(1) Yellow Disposal Bag: for the final cleanup and disposal.

A Handy UnSmoosher: provided to easily open the SmooshKit.

SPL054
Spilltration® Seat Pocket SmooshKit™
3 Gal
10
22 lbs
24

(30) White Oil Shammy Towels: to sop up any remaining oil or fuel and wipe down all hard surfaces.

(5) Gray Husky Pads: to get the bulk of the oil or fuel sopped up.

(1) Pair of Nitrile Gloves: to be worn during the cleanup process.

(1) Yellow Disposal Bag: for the final cleanup and disposal.

A Handy UnSmoosher: provided to easily open the SmooshKit.

SPL082
Spilltration SmooshKitTM Economy
5 Gal
3
7.5 lbs
16

(2) Gray Husky Strips: to surround the spill or protect critical areas

(5) Gray Husky Pads: get the bulk of the oil or fuel sopped up

(1) Pair of Nitrile Gloves: to be worn during the cleanup process

A Handy UnSmoosher is provided to easily open the SmooshKit