SPILLBOA™ Sorbent Barrier
SPILLBOA™ Sorbent Barrier provides fast response to contain oil and fuel spills
Oil and fuel spills always seem to happen when you least expect….a leaky diesel tank, a ruptured hyraulic hose, a blown transformer, an overflowing fuel oil tank. What you do in the critical moments after the spill can make all the difference in the world. Your main job is to CONTAIN the spill.
Unfortunately, most portable spill kits have a hodge podge of pads, socks, pillows and granular chips designed for cleanup. But, cleanup is not the task at hand….that's for the cleanup professionals who show up later. If YOU are the first person on scene when a oil/fuel spill happens, your #1 priority is to contain the spill and keep it from spreading. That's why you need the SpillBoa™ sorbent barrier.
SPILLBOA™ Sorbent Barrier
SpillBoa™ compared to round boom:
SpillBoa™ sorbent barrier is engineered to put 300% more material in touch with the surface than traditional round boom— stops spills faster & better.
FEATURES AND BENEFITS:
The SPILLBOA™ Sorbent Barrier is the easiest take-along tool to quickly contain your oil and fuel spills
SpillBoa™ sorbent barrier's flat profile allows more surface area to come in contact with the water. So, it floats higher than traditional booms and holds back oil spills better.
SpillBoa™ float high on water to hold back oil spills until cleanup crews arrive
Who should carry SpillBoa™ sorbent barriers?
Fuel Trucks, Excavators, Garbage Trucks, Bucket Trucks, Pipelines, Firefighters, Compressor Stations, Marinas, Power Plants, Barges, Mines & Quarries, Heating Oil Trucks, Oil & Gas Exploration, Airports, Police Vehicles,Road Building Crews, Cranes, Spill Contractors, Convenience Stores, Substations, Refineries, Railroads, Asphalt Plants, Tow Trucks, Military Fleets, Tank Farms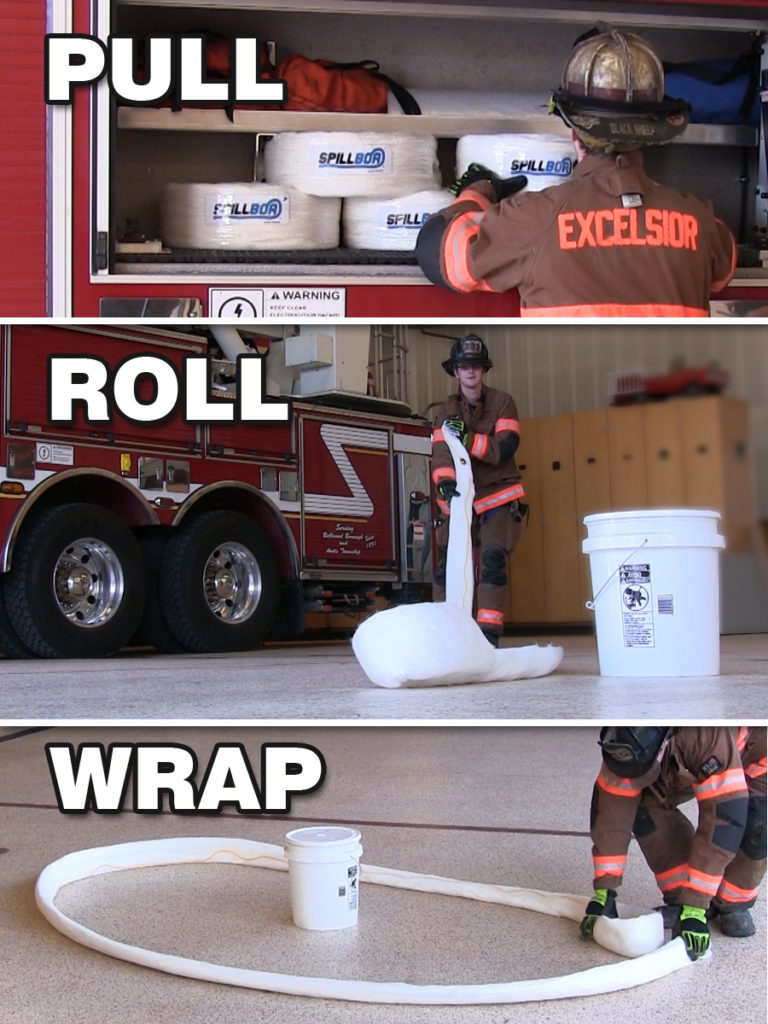 RECOMMENDED USES:  To absorb hydraulic fluids, transmission fluids, diesel fuel, gasoline, motor oils, lubricants, and other hydrocarbons while filtering water at the same time.
DO NOT USE WITH:  Acids and Caustics
PACKAGES PER CASE:  Four SpillBoa's per case
PRODUCT CONTENTS:
(4)  5"x25" SPILLBOAs
(8) 5″X10′ SPILLBOAs
SpillBoa Cubby Kit
(1)  5"x25" SPILLBOA
(1) Cubby Kit Duffel
ABSORBENCY PER PACKAGE:  7 gallons per kit
SpillBoa™ Sorbent Barrier
Item #
Description
Size
Abs/Pkg
Pkg Qty
Pkg Wt
Pallet Qty
SPL033
SpillBoa™ Bale
5″ x 25′
28 gal*
4
18 lbs
24
SPL035
SpillBoa™ Cubby Kit
5″ x 25′
7 gal
1
4.5 lbs
30
SPL043
SpillBoa™ Bale
5″ x 10′
7 gal
8
18 lbs
24
*Total absorption of kit. 7 Gallons per SpillBoa