New spill product solutions for a clean, safe workplace
You've spoken, we've listened. We've listened to our customers and heard the challenges you are facing. We've come up with innovative and effective solutions to meet those challenges head on. Below you will find some of our newest products specifically designed to help you handle any spill and any application.
Our new MBT  product catalog has all the absorbents, spill kits and spill containment products to keep your workplace clean, safe and in compliance. Click here to request an MBT Product Catalog.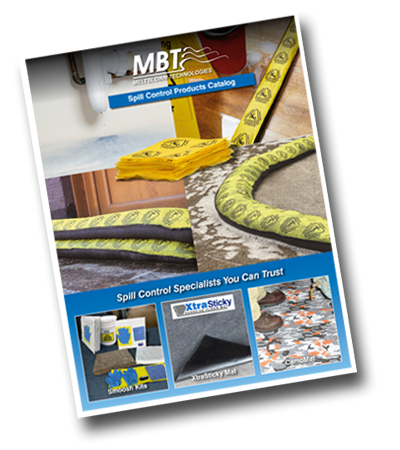 OSMO: Flood Protection
The new Osmo product line is specially built to protect property from any kind of flood damage. From a small leak to fairly heavy flooding, Osmo products are made to protect against damage.
Each Osmo product is easy to deploy, making it quick to pick up any spills that may occur.
Flood Barrier
Thirsty Pad
Thirsty Sock
Plumber's Pad
Spilltration SmooshKit™
Our new SmooshKit™ is all about space savings. MBT's partner Halen Hardey's patented smooshing technology solves the common space constraints that many fleet and remote industries face. This proprietary process compresses our innovative Spilltration® material into compact packages that can fit anywhere.
You can store SmooshKits™ in the smallest of spaces:
The seat back of a pickup truck
Glove boxes, toolboxes, and other utility containers
Under, behind, or between your seats
In your seat Pocket
Anywhere you have a bit of extra space
Make sure your business really STICKS to a floor safety program!
Our XSMB Mat is an industry-standard absorbent mat featuring a sticky backing that helps to keep this matting in place but also allows for easy removal or replacement when no longer needed.

Highly Absorbent – High durability, fast drying, and easy to clean. The XSMB mats absorb oil, water, and solvents at the same time.
Stays Where You Place It – The XSMB mat with adhesive backing will stay put when applied to a clean surface.
Xtra Tough – It withstands both foot and forklift traffic without shifting, rippling, or bunching; heavyweight, fast drying, and easy to clean.
MBT Transformer Bag Spill Kit
Transformer Bag Kits are an easy, cost-effective way to transport and store leaking transformers.
Different-sized kits are offered to cover all-sized transformers. This spill kit has multiple layers and cord reinforcement to resist punctures and tears as well as UV stabilization protects the material from degradation during extended exposure to sunlight. Cold-crack resistance eliminates failures in extremely cold temperatures while flexibility and light weight allow for easy handling and quick installation. Meltblown polypropylene pads are included in each kit to absorb any leaked dielectric fluid.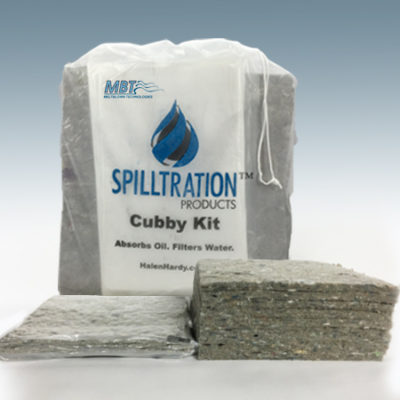 New SPILLTRATION™ absorbents designed to work rain or shine.
SPILLTRATION™ absorbents are very different than traditional absorbents. They absorbs oil and filter water. Absorbents are 'Smooshable' so they require 300% to 500% less space for storage than competitors. SPILLTRATION™ absorbents are uniquely engineered for superior performance when it's raining, picking up hydrocarbons 50% faster than traditional absorbents. SPILLTRATION™ – Saves time. Saves money. Protects the environment.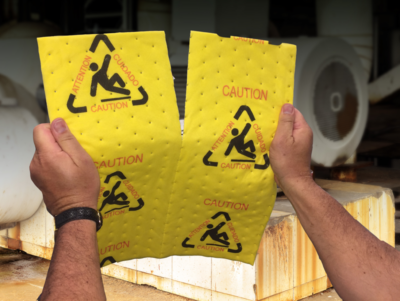 New Hi-Visibility Caution Mat
Our new Hi-Vis line of absorbents provide the best protection against slips, trips and falls. Our NEW Caution Mat has the international symbol for slip hazard repeating throughout the product making it ideal for use anywhere from factory to hospitality.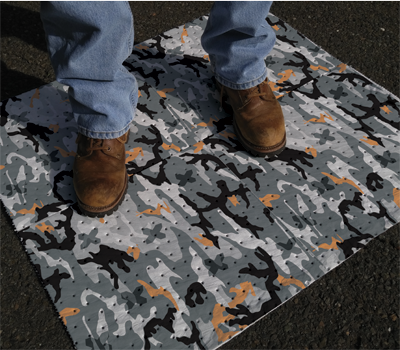 New camouflage absorbents hide grime
New camouflage absorbent rolls are the ideal universal absorbent for your facility. Its unique camo pattern design helps had grime from leaks and overspray. As part of our fine fiber series of absorbents, our camouflage absorbent rolls offer strong wicking power while absorbing oils, coolants, solvents, and water.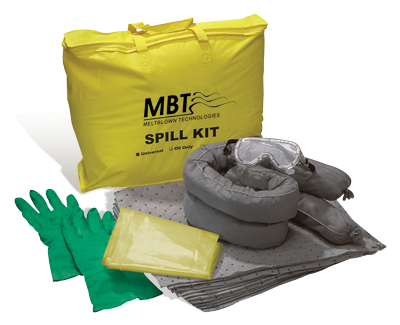 New spill kits keep you ready for quick spill response
Our new bagged spill kits are lightweight for quick and easy access when you need to respond at a moment's notice. These compact kits can be stored just about anywhere: in a cabinet, behind a truck seat, or in stations around your facility. These portable spill kits are filled with all the absorbents you need to handle a small spill fast.
See our complete selection of spill kits to help you respond to small, medium and large spills.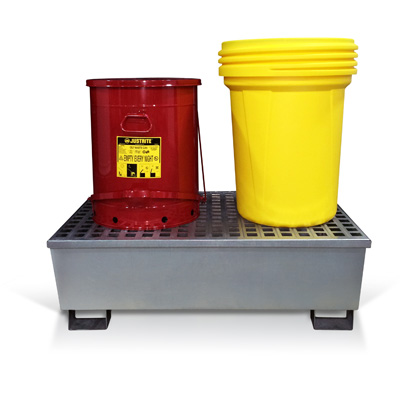 New steel spill pallets offer fireproof drum storage
Our new steel two-drum and four-drum spill pallets provide safe storage of your drums. Our steel pallets are fireproof and will NOT melt under fire. Our steel pallets and containment sheds are NFPA 30 & NFC 2010 compliant, meeting spill control requirements for noncombustible devices.