Caution Mat is the ideal hi-visibility safety absorbent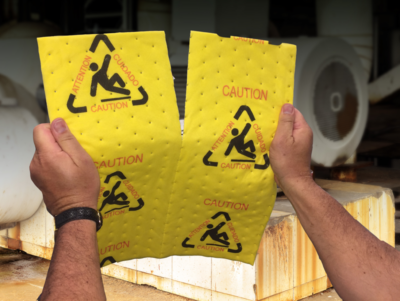 CAUTION MAT: Hi-Visibility Safety Absorbent
Our new Hi-Vis line of absorbents provide the best protection against slips, trips and falls. Our NEW Caution Mat has the international symbol for slip hazard repeating throughout the product making it ideal for use anywhere from factory to hospitality.
Hi-Vis yellow w/caution STF warning
Spunbond side is abrasion-resistant, great for foot traffic or heavy-duty wiping applications.
Fine fiber side grips smooth surfaces (like cement) to reduce slips, trips & falls.
Absorbs most fluids, including oil (hydrocarbon-based fluids), water, glycols, acids and caustics
A perforation helps reduce waste.
Spunbond-fine fiber composite mats are great dual-purpose sorbents.
Caution Mats – Hi-Vis Absorbents
Item #
Description
Size
Abs/Pkg
Pkg Qty
Pkg Wt
Pallet Qty

General Purpose – Hi-Visibility Yellow (suitable for most industrial applications)

YSMF100-HV
Hi-Visibility Caution Pad
15" x18″
24.4
100
12.5 lbs
30
YSMF200-HV
Hi-Visibility Caution Pad
15" x18″
24.4
200
12.5 lbs
30
YSMF150-HV
Hi-Visibility Caution Roll
30" x 150'
57
1
29.2 lbs
18
YSMF36150-HV
Hi-Visibility Caution Roll
36" x 150'
57
1
29.7 lbs
18
YSMF24150-HV
Hi-Visibility Caution Roll
24" x 150'
37.6
1
19.6 lbs
24