Drain seals stop spills from going down the drain
Our drain seal is a valuable addition to any emergency response plan, spill kit or stormwater management program. This storm drain cover is constructed with a flexible, non-absorbing material and reinforced tear resistant mesh, the drain seal is designed to quickly and effectively seal a drain in an emergency. Its mesh interior is sandwiched between layers of polyurethane, which increases durability and gives it the flexibility to deform and seal off most drains.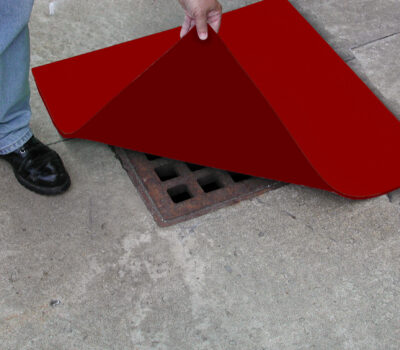 Poly Drain Seal
Durable and flexible poly drain seal provides fast deployment for quick emergency response and stormwater protection.
Both sides are designed to effectively seal most drains (no top or bottom).
Resists oil, water and most aggressive chemicals, cleans with soap and water.
Poly Drain Seals
| | | | |
| --- | --- | --- | --- |
| Item # | Description | Size (WxLxH) | Pkg Wt |
| 4318-SP | 18″ Poly Drain seal | 18" x 18" x 3/8" | 5 lbs |
| 4324-SP | 24″ Poly Drain seal | 24" x 24" x 3/8" | 8 lbs |
| 4336-SP | 36″ Poly Drain seal | 36" x 36" x 3/8" | 13 lbs |
| 4342-SP | 42″ Poly Drain seal | 42" x 42" x 3/8" | 20 lbs |
| 4348-SP | 48″ Poly Drain seal | 48" x 48" x 3/8" | 23 lbs |