Spill berms provide reliable spill containment.
MBT foam wall and collapsible large spill containment berms are engineered for use in rough environments. Made from durable PVC materials, these spill containment berms have flexible side walls that allow vehicles to drive into the berm when a chemical spills happen.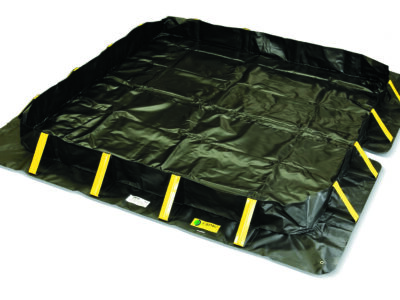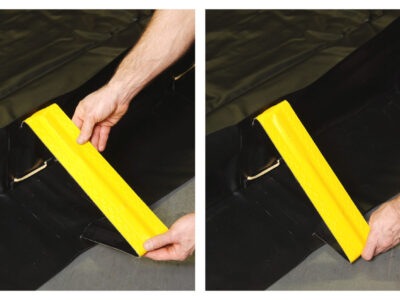 The Collapsible Wall Berm
The collapsible wall berm features an economical design that sets up quickly and provides secure containment. PVC sidewall assemblies provide sturdy support for the containment area but are quickly lowered for easy access. Great for spill containment of large quantities of drums, vehicles, frac tanks or other larger containers.
Rugged PVC sidewall assemblies for sidewall support. Simply swivel the "feet" of the PVC supports to lower or raise the sidewalls in just seconds!
Meets SPCC and EPA Container Storage Regulation 40 CFR 264.175.
Durable materials provide years of
Collapsible Wall Containment Berms
| | | | | |
| --- | --- | --- | --- | --- |
| Item # | Description | Size (WxLxH) | Containment Capacity | Pkg Wt |
| 48-661-BK-SU | Collapsible Wall Containment Berm | 6′ x 6′ x 12" | 269 Gal | 32 lbs |
| 48-10101-BK-SU | Collapsible Wall Containment Berm | 10′ x 10′ x 12" | 748 Gal | 58 lbs |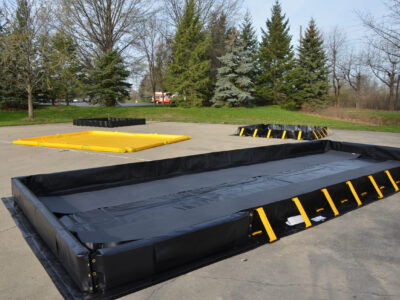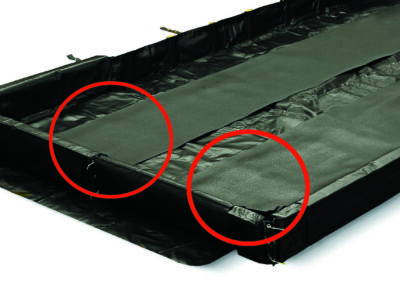 Foam wall containment berms
Low profile design is perfect for equipment maintenance and portable drum containment. Foam wall berms allow you to capture nuisance leaks and spills from vehicles, oily equipment, tanks and drums.
Soft foam sidewall easily compresses for convenient loading and off-loading.
Choose from several standard sizes to meet your spill containment needs – custom sizes are also available.
Low, 2- or 4-inch sidewall contains spills – keeps plant floors and soil free from contamination.
No set-up is required – simply unfold for quick deployment. Folded units require minimal storage space.
Available in Co-polymer-2000 or PVC (24 mil) – withstands the rigors of industrial and construction applications.
Built-in handles help with transport and placement.
Collapsible Wall Containment Berms
| | | | | | |
| --- | --- | --- | --- | --- | --- |
| Item # | Description | Size (WxLxH) | Containment Capacity | Berm Weight | Color |
| 48-10261BK-SF | Foam Wall Containment Berm | 10′ x 26′ x 12″ | 1944 Gal | 142 lbs | Black |
| 48-12361-BK-SF | Foam Wall Containment Berm | 12′ x 36′ x 12″ | 3231 Gal | 198 lbs | Black |
| 48-12501-BK-SF | Foam Wall Containment Berm | 12′ x 50′ x 12″ | 4488 Gal | 230 lbs | Black |
| 48-14541-BK-SF | Foam Wall Containment Berm | 14′ x 54′ x 12″ | 5654 Gal | 252 lbs | Black |
| 48-12601-BK-SF | Foam Wall Containment Berm | 12′ x 60′ x 12″ | 5385 Gal | 293 lbs | Black |
| 48-14851-BK-SF | Foam Wall Containment Berm | 14′ x 84′ x 12″ | 8901 Gal | 475 lbs | Black |