Railroad Track Mats absorb oil leaks and spills under trains and machinery.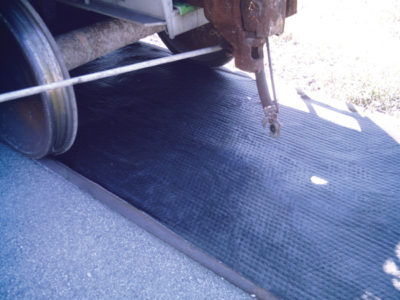 Railroad Track Mat –  Oil Only
Use impermeable-backed railroad track mats when refueling locomotives, at ready-station sites, and when greasing rails. The top layer (black) is UV-resistant, the center layer is highly absorbent, and the bottom layer (white) prevents diesel fuel, oil, and other hydrocarbon-based fluids from leeching into the soil and ballast. Railroad track mat is ideal for use under leaky equipment and vehicles and for preventing oil spills.
Available in 19″, 29″ and 57″ widths;
57″ width track mat for placement between rails in railroad yards
For added protection, 19″ width is ideal for placement on outside rails
Absorbs oil only; will not absorb water
Constructed with a durable UV resistant cover-stock
Impenetrable barrier backing on bottom to keep liquids from leaking through
MBT Railroad Track Mats
| | | | | | | |
| --- | --- | --- | --- | --- | --- | --- |
| Item # | Description | Size | Abs/Pkg | Pkg Qty | Pkg Wt | Pallet Qty |
| FM-1980 | 19" Black Railroad Track Mat | 19" x 80' | 29.3 Gal | 2 | 20 lbs | 16 |
| FM-2980 | 29" Black Railroad Track Mat | 29" x 80' | 44.8 Gal | 2 | 44.8 lbs | 9 |
| FM-5780 | 57" Black Railroad Track Mat | 57" x 80' | 54.9 Gal | 1 | 54.9 lbs | 9 |